Rewards Program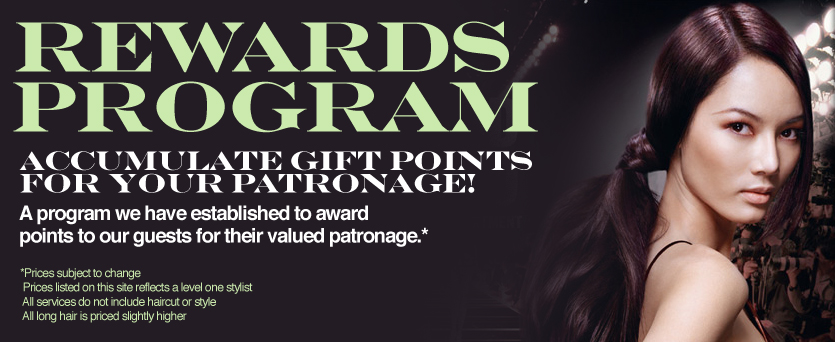 What can I redeem Gift Points for?
650   Gift Points =  $10.00 in retail
1300 Gift Points =  $20.00 in retail
1900 Gift Points =  $30.00 in retail
2500 Gift Points =  $40.00 in retail
3500 Gift Points =  $50.00 in retail
How do I accumulate Gift Points?
It's easy, tracked electronically in our database, you automatically accumulate Gift Points with each purchase from Jon Lori. For every $1 dollar you spend on services, gift cards and/or products you automatically receive one Gift Point awarded to your account! Gift Points can also be accumulated in other ways. For instance, refer a friend to Jon Lori for a service and receive 100 Gift Points. f you have been in to the salon within 3 month of your birthday earn 25pts. Book your appt on line and receive 10pts, Pre-book your next appointment prior to leaving that days appointment and receive 20 Pt, And provide us your current E-Mail address, for our E-newsletter, and receive 2 Pts.
Are Gift Points redeemable for direct Cash?
No. Gift Points are not redeemable for direct cash.
Do Gift Points expire?
Yes. Regardless of the amount accumulated, Gift Point balances expire December 31st of each year. It is our guests responsibility to claim their available Gift Point awards prior to expiration.
Considerations
Jon Lori Salon guarantees that all services will be provided to your complete satisfaction. Jon Lori Salon carries a wide selection of quality hair and skin products including Kerastase, Redken, Pureology, Youngblood Mineral Makeup, and Comfort Zone. Your stylist or colourist can help with your product selections.
In keeping with our desire to provide a relaxing and healthful environment for our clients, smoking is not permitted at Jon Lori Salon. We recommend you arrive a few minutes early for your appointment – take this time to relax and enjoy a cup of herbal tea or your favorite beverage.
In the event it becomes necessary for you to cancel an appointment, please let us know at least 24 hours in advance. To ensure time availability, we recommend that you schedule your next appointment before leaving the salon.
If you feel you would be more comfortable being served by another staff member or would like a fresh point of view, please let us know. Jon Lori Salon staff members function as a team whose primary concern is your satisfaction.