hair care styling tips and tricks
Blonde Maintenance Tips
A great way to maintain your blonde color is to shampoo every 2-3 days with a blonde-specific or color care shampoo such as Blonde Idol or Color Extend Magnetics. Using a protein treatment such as Extreme Anti-Snap helps prevent breakage, which can happen when you bleach your hair. Also be sure to protect it from hot tools with Pillow Proof Blow Dry express primer or Hot Sets thermal setting mist.
Redken Two Day Extender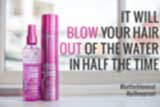 On the go? An easy way to look salon-ready daily is by using Redken's Pillow Proof Blow Dry Two Day Extender. It gives hair texture and volume while absorbing greasiness!
Pick the Right Brush

When blow drying your hair, the right brush makes all the difference. To straighten curly, long or coarse hair choose a large round brush. For medium to long hair use a medium size brush to add body and smoothness. For short hair, choose a small brush to add volume.