blog
How To Get Rid Of Split Ends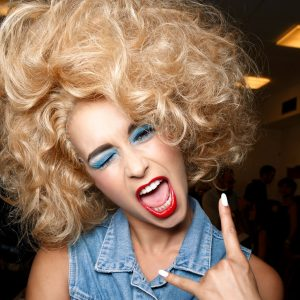 Detangle Hair Before Washing
"Wet hair is more elastic and breaks from much less stress than when it's dry," says Taylor Brock, stylist at Butterfly Studio Salon. He recommends detangling hair before it's wet with a natural bristle brush or a rubber wide-tooth comb. Start slowly from the ends, working your way up gently to the roots. And if you must detangle your hair while wet, do so with conditioner in your hair. The conditioner will allow the brush or comb to glide more easily through any snags or snarls.
Be Mindful of Your Diet
Your health affects your hair. A low-fat, low-protein diet will result in weak, dull locks. "Protein is key for hair repair," says Brock. "It strengthens hair." Incorporate good fats, like olive oil and avocado, lean protein, fruit, vegetables and iron-rich foods for a strong, healthy mane.
Avoid Harmful Ingredients
"You want to start with the right products for your hair type. Avoid any products with sulfates or parabens, which can dry hair, irritate the scalp and fade color," advises Aaron Grenia, co-founder of IGK Hair.
Hydrate Thirsty Damaged Strands
Frazzled strands often require nourishing condition treatments to help them look healthy. "Using a deep moisturizing treatment at least once a week will help smooth down split ends and keep new ones at bay," says Jennifer Matos, stylist at New York City's Rita Hazan Salon. "After using a hydrating shampoo and conditioner, be sure to use a leave-in treatment, like Rita Hazan Triple Threat Split End Remedy, to help protect and lock in moisture on your ends."
Treat Your Hair with TLC
The more you rough-handle your hair, the more chances for breakage and splits. Opt for low-maintenance styles that require little manipulation. Also, use only covered nylon elastics to tie your hair into a ponytail. They don't get tangled or pull out strands like uncovered rubber ones.
Take a Break From Heat Styling
Using high heat can take a toll on strands, especially if they are over-stressed and weak. "Take a break from heat styling at least once a week and let your hair air-dry," says Grenia. While hair is damp, he suggests using IGK Rich Kid Coconut Oil Gel, a coconut oil-infused creamy gel, to soften and hydrate parched hair.
But When You Do, Use a Heat Protectant Spray
When used too often and improperly, heat tools can burn hair, causing splits and frazzled ends. To keep damage to a minimum, monitor the temperature and always use a heat-protecting product. Brock likes using a leave-in like any of the Thermiques by Kérastase after towel drying. He then uses a reconstructive serum like Kérastase Résistance Fibre Architecte on dry hair before curling or flat ironing to get hair smoother and softer.
Try a Keratin Treatment
Brock recommends considering a safe keratin smoothing treatment, such as Cezanne Perfect Finish, for long-lasting results. This quick fix is a perfect means for taming the frizzies and the flyaways. Because hair requires less manipulation, it reduces stress on your tresses and minimizes any further damage.
Dust Hair Periodically
If you don't snip off the damaged ends, eventually the splits will travel up the hair shaft causing much more damage — resulting in you getting a bigger chop later on. Dusting is the process where you lightly trim away the splits while still retaining hair length. Take a small section of your hair, twist it into two strands and with a sharp pair of professional hair scissors, clip away the frays that stick out. Repeat the process until you've completed your whole head. And voilà, now you are truly split end free and you haven't lost any hair length.
Seal Splits with a Repairing Treatment
Though the only way to permanently get rid of split ends is to trim them away, split end repair treatments can (temporarily) fuse the frayed ends back together again so they're less noticeable. "A favorite is Oribe Split End Seal. It's clinically proven and the name says it all. Application couldn't be easier; just add one to two pumps into your routine on wet or dry hair to help mend and strengthen fragile ends," enthuses Brock. "Shu Uemura Essence Absolue Nourishing Protective Oil or, for thicker, coarser textures, Shu Uemura's Essence Absolue Oil-In-Cream are always go-tos for hair health. They're great for repairing and 'hiding' split ends." For naturalists, Brock suggests using a small amount of organic coconut oil as an alternative reparative treatment.
Read more at http://www.thefashionspot.com/beauty/351551-the-best-new-products-to-repair-split-ends/#bVCvrhO0WbowoEjM.99